You have stumbled upon KylieM Designs
I am a Digital Designer from sleepy little Adelaide, South Australia. I have three boys, I am studying and am active in Scouting. I have been an avid scrapbooking since 2003, and love every minute of it!

All my products are Digital-Designing-for-Others (DD4O) friendly. This means that professional and hobby crafters can use the digi-scrap art to create hand-crafted projects that are then sold to a third party. This does not mean that my products can be used to create further Digi Scrapbooking Elements, only that flattened .jpgs & hardcopy printing can be sold using my products. No credit is necessary, although appreciated. Please download my TOU for further clarification (link in sidebar). This TOU is relevant for all my current kits available in-store, and replaces any that are downloaded with kits.

Please take your time to browse through my blog, I have freebies available for download, these are now only available for a limited time, but there are always new ones appearing! There are also heaps of previews of my kits, links to my stores and lots of layouts.

Enjoy!
Just reminding everyone, I have moved blogs ...
There are some freebie goodies available there, and there is some fantastic news about a HUUUGE sale!!!! ..
So pop on over to
http://kyliemoore.typepad.com
....
See you there ...
Well for many reasons I am moving my blog .. this is a long process, but one in which I am very happy with .. if you want a sneak preview check this out ..
http://kyliemoore.typepad.com/
.. it is still under construction as I put all the links up, but I love it!! Please let me know what you think :)
Also keep an eye on it as there will be a pressie for you there when it goes 'live', that is when it becomes my primary blog on January 1st ...
Some people have said they are having a problem with the download link, I am not quite sure what it is but it was working for me. But then 4Shared is fickle so anything is possible.
Anyway here is a repost of the preview and the download link :) I have linked the preview to the download, as well as below it.
Download
HERE
I am not sure why people were having problems with it, but hopefully now it is fixed.
A comment from .. Idetrorce

Ok I worked that one out .. its a spam thingo and lots of people have had the same comment from the same person .. I deleted it as spam .. sheesh havent people got anything better to do ..

LISSA - who named my Mint-Mixup Kit ... I did try emailing you to give you the links to the kit but for some reason it keeps bouncing ... I changed email programs, so maybe I got something wrong in the transfer. Can you email me again .... I really want to make sure you get the kit!!

kyliem_designs@yahoo.com.au
WOW .. I just checked out how many downloads for the CATW contribution .. 948!!! wow .. just amazing .. and the kit is staying up until Christmas Eve .. Here is the preview .. just scroll down for the link, and the link to the Christmas Around the World Blog!! Just amazing :)
I finally managed to get a new item in store .. its been that sort of month or two ... so very quickly here are some Painted Hand-Prints for you .. courtesy of my son Jordan's hand :) lol
Just click the preview to take you directly in store .. they are a steal for only $2.00!
Ooops .. Almost forget .. don't forget to scroll down for my contribution to the
Christmas Around the World Collaboration Kit
.. almost 80 Designers from all around the world have donated some beautiful goodies for you. Download mine below and visit the
blog
to see all the links! Special thanks goes to
Fishinmom
for all her hard work!
Well this is an amazingly exciting project ... over 70 Designers from around the world, have gotten together to bring you this amazing Freebie Mega Kit ... it even has a whole Blog dedicated to it!
The blog is
http://christmasaroundtheworldkit.blogspot.com/
and is the brain child of
Fishinmom Designs
...
So here is my preview of my contribution ...
You can download my part
here
.
Dont forget to visit the Christmas Around the World blog for all the other links .. remember its here ..
http://christmasaroundtheworldkit.blogspot.com/
I also did a quick Layout using my parts of the freebie ...
Now you have 10 days to collect all the parts .. so bookmark the blog and browse through all the sites .. I am sure there will be lots of scrummy stuff available, and check out the blogs of the Designers you are visiting as well, there could be anything there for you to discover!
Ok... well you are going to get two posts in quick succession here .. this one is more of a personal one ...
Sorry I have been out of the loop, last week was kinda hard, I had William home sick on Monday, Thomas home sick on Tuesday and Jordan home sick on Wednesday. Thursday morning Jordan wakes up and says .. "Mummy I think I need to go to hospital", so off we went ... Sunday afternoon we got home! So yes, my little boy is very aware of when he needs to go to hospital.
He has a condition called Juvenile Recurrent Parotitis .. there is heaps on the web ..
but this is a fairly good article if you are interested
..
Here are a couple of pics ... these were taken before we went to hospital, it actually got a whole heap worse before it got better, the swelling, from the front, was all the way up to his eye-brow!!
You can see the redness starting here behind his ear, the redness also increased, covering almost that whole side of his face and down his neck.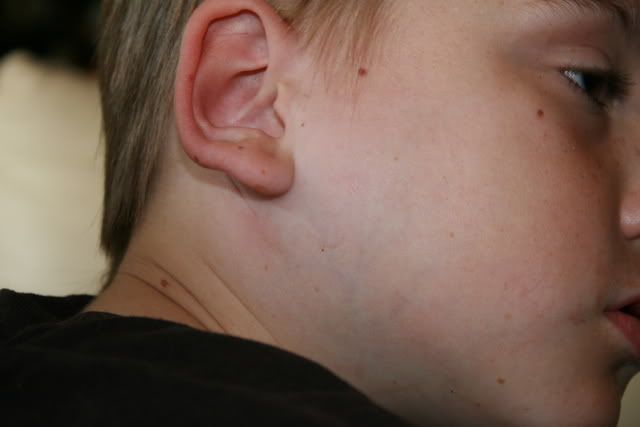 The view from the front ..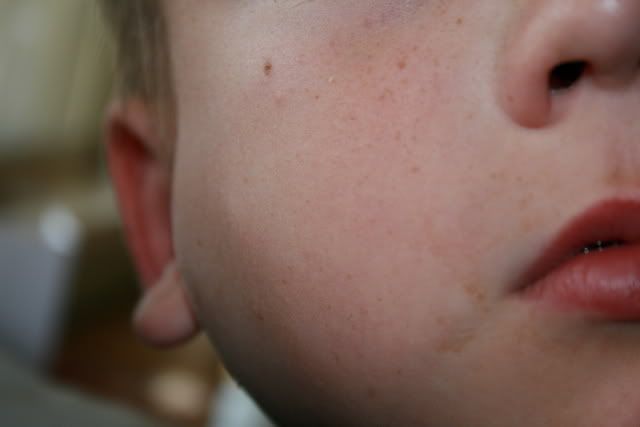 As you can imagine this is extremely painful for the poor munchkin, but he is the most brave boy when it comes to it. But sitting there in the hospital, while your child just lies there unable to move because of the pain, throwing up because the pain is so bad and the nurses will not give him panadol more than once every 4 hours, and won't give him nurofen because he wasn't eating ... yeah well you can tell I got a little peeved! Anyway he is much better and much happier and so am I for being back home ... now I just have to catch up on everything!
Oops .. I nearly forget .. silly Kylie ..
We have a u-bewt Advent Calendar at Nuts4Digi .. it really is jam packed of goodies from everyone ....
But you have to be quick as each link is only open for a day (well a touch longer I think to take into account timezones). Day two has just been released, but Day one is still active for a little while .. just a few more hours .. so hope on over to the
Nuts4Digi store
to see what has been left under the tree for you xo
And don't forget about my CT Coordinator call ... scroll down for details